By: EcoPower
---
Going Green In Motorsports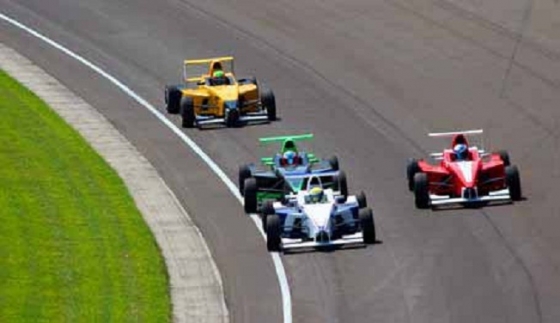 Indy. Daytona. Talladega. Darlington. Bristol. Mention these monuments to internal combustion in a crowd of race fans and watch as they get lost in memories of tire smoke, crackling exhaust, massive V-8 power and the thrill of their favorite racers bump-drafting each other across a finish line. But to meet the demands of nearly 40% of the U.S. population that considers itself "eco-responsible," auto racing is working to reduce its impact on the environment. And it's learning lessons that can be applied to auto dealerships nationwide.
Perhaps the best known example of the "greening" of a motorsport is NASCAR
®. NASCAR® touts the largest recycling program of all major sports. According to NASCAR.com/green, the sport has cut its carbon emissions by 20 percent.
NASCAR® isn't the only motorsports brand that is working to reduce its impact
on the environment. Groups including IndyCar® and NHRA® have made enormous strides to help the environment with the assistance of business partners, including Safety-Kleen. Safety-Kleen collects and re-refines used motor oil and engine fluids in a closed-loop recycling system. This process saves time, energy and prevents
thousands of gallons of oil from being disposed of improperly. That's good for
the environment and makes the sport more appealing to the millions of people
that are eco-conscious.
Most car dealerships and other business are feeling the pressure to reduce their environmental impact, just like the motorsports industry. The pressure is coming from new regulations, environmental groups and, most importantly, customers. Car dealers across the country face similar problems every day.
Also, like the motorsports industry, very few automotive dealerships have environmental sustainability experts on their payroll. And reducing a company's carbon footprint is almost never an easy task. But the efforts displayed throughout the motorsports community can be applied to your business. Here are three ways you can get started:
1) Enlist the support of the best partners to help green your business. The major motorsport groups have brought together huge sponsors to make the best environmental team. Automotive dealerships can follow this same model to
reduce their carbon footprint. And Safety-Kleen, for instance, provides the same service to local dealers as they do to racing partners. All of the motor oil collected in Service Departments can be re-refined to be used in EcoPower oil changes -- reducing your carbon footprint even further.
"Many are willing to pay a premium for environmentally responsible services--a premium that can reach $12 per oil change."
2) Brand your sustainability commitment. Protecting resources isn't just good for the environment, it's good for your bottom line. By educating people about what you dealership does to protect the environment, and by attracting eco-responsible
consumers for more oil changes, more Service and more vehicles, it can boost profitability. Merchandising your efforts will make many customers take greater notice. In fact, many are willing to pay a premium for environmentally-responsible services. With proper education, that premium can reach an average of $12 per oil change, according to a 2011 study of Eco-Responsible DIFM Consumers by Maslansky, Luntz and Partners. Over the course of your fiscal year, that can mean thousands of dollars in increased profit.
3) Offer the best environmentally-friendly alternatives. Consumerswant environmentally responsible products and view companies that offer them more favorably. In fact, 87% of consumers say they view businesses that use environmentally-sound oil more favorably than those who don't. But there's a catch. Consumers demand as high or even higher standards for "green" products. So like NASCAR®, your business must use only the best suppliers. For help recycling
bottles, NASCAR® partnered with one of the world's largest soda makers, while race tires are recycled by their tire sponsor. By following motorsports' lead in offering only the best products, dealerships can position themselves confidently as a "green" partner.
4) Walk the walk. Just offering eco-friendly products to your customers isn't quite enough. Eco-responsible customers want to do business with companies that show a deep commitment to the protecting the environment. In your Service Department, institute a system to recycle used oil, offer oil changes using re-refined oil and recycling parts washer solvents. In your fleet, consider fitting low-rolling resistance tires to corporate vehicles. And throughout your business, enact policies that require employees to recycle at work, and showcase any effort to go "paperless" at work. All of these steps lend your business credibility as you work to be more environmentally friendly. 
Though individual dealerships may not have the marketing budget or
clout of America's racing legends, the motorsports community provides a simple roadmap for making a sustainability program a reality in thousands of Service Departments across the country, proving once again that, "what wins on Sunday sells on Monday." "Many are willing to pay a premium for environmentally responsible services -- a premium that can reach $12 per oil change."
Curt Knapp is Senior Vice President and Chief Marketing Officer of Plano, Texas-based Safety-Kleen Systems. Safety-Kleen is the largest collector, recycler and re-refiner of used oil in North America. Their EcoPower motor oil uses up to 85% less energy to produce than newly-refined oil and meets or exceeds the toughest industry standards for engine performance and protection. 
(NASCAR, IndyCar and NHRA are trademarks of their respective owners.)
---
---